Project documents and images: Young girls' educational opportunity
September 2010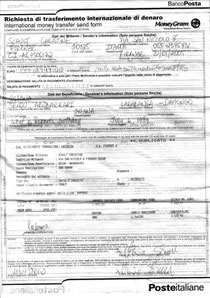 On September 17, we sent the funds so generously donated to Mr. Seidu in Larabanga. Up to that point, we received donations of Euro 1.970,00.
As you can see from a copy of the Moneygram (below), we wired 1.999,00. The reason for this strange value is tied to laws regulating international transfers and the complications which arise in sending Euro 2.000 or more at any given time.
If and when more funds come we will, of course, make another transfer.