Project documents and images: Young girls' educational opportunity
April 2016
Funds collected in through March 2016 were forwarded to Mr. Seidu, the project leader in Larabanga, via direct bank transfer, on April 8.
Our appeal for your support resulted in contributions amounting to €1615. In the end, a total of €2000 were transferred (As always, bank transfer costs were not paid from the donations.)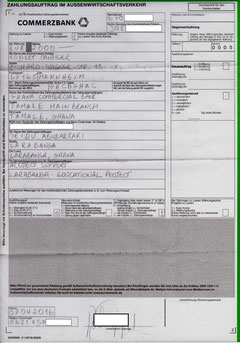 Copy of transfer from Commerzbank to the Ghana Commercial Bank (in Tamale) for Mr. Seidu.
Update: the results for this phase of the project can be found on the July 2016 page.