Project Documents and Images: Primary School project
April 2007
These are the first group of images from the Primary School Project.
Images from subsequent phases of the project are available for:
By working through these images you can get a good idea of how the project developed over time -- and its successful conclusion!
Images of the Primary School
Western Union receipt for funds sent for Primary School project: April 2007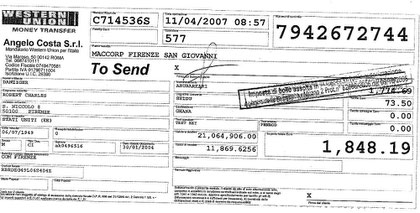 Images of Life Festival in Larabanga (for your interest ...)
For your enjoyment, we have scanned some photos Mr. Seidu -- the local project leader -- sent to us of a recent village celebration, the Life Festival. We are asking for more information about the festival but it is obviously very important and, from what we have aleady learned, requires that natives return to the village, regardless of where they may be living. This time, it took place in conjunction with the 50th aniversary celebrations of Ghanian independence.
Mr. Seidu (left) receiving an award for his dedicated work for his village and region