Project documents and images: Young girls' educational opportunity
July 2011
 In May of this year, we sent a total of €1000 to continue support for the project. This month, Mr. Seidu provided us with an accounting of how the funds were spent (ca. 2025 GH¢).
Here are the receipts sent together with the letter, above. As you can see, they show payments for school supplies and various items, purchase of textiles and sewing services for the school uniforms.
A letter from Mr. Seidu, expressing the thanks of the village to all who contributed, came along with the materials. (It seems he forgot to sign it though ...)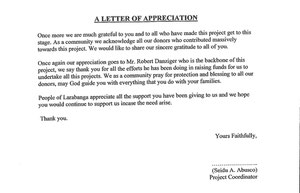 Photo Gallery - Spring 2011
Finally, we received some photos of the schoolchildren as they received their uniforms and supplies. Mr. Seidu, the local project leader and schoolteacher, appears in the images.